Listen to this content
Dying Without a Will in Florida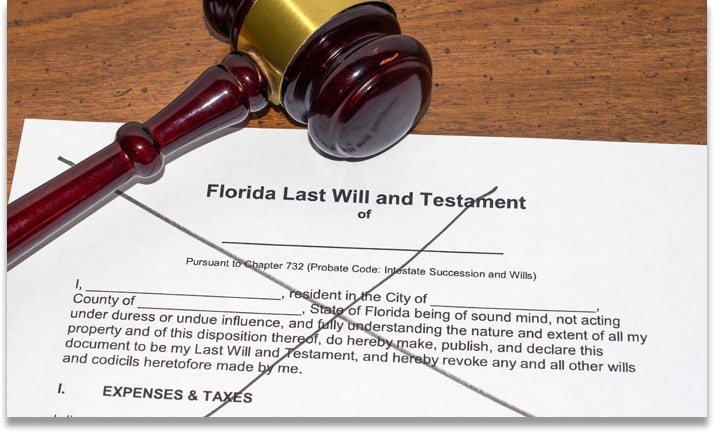 Intestate succession refers to the State process of distributing a person's assets when they die without a will, or trust. When a person passes away without a written document detailing how to distribute their estate, the matter goes to probate court.
This lengthy process costs money and takes control of the deceased person's assets. Basically, the State decides who inherits property, money and all other parts of one's estate. So, dying without a will allows the State to dictate how your estate will be distributed after your passing.
Florida Intestate Succession
Florida Statute Sections 732.101-.109 covers this process When someone passes away without a will, or trust, all assets go to the closest relatives. The heirs follow a specific order in Florida.
The first to inherit is the surviving spouse. There must be a valid marriage to be a surviving spouse. If there are no children, the spouse gets everything.
Next in line are the children. If a child dies before the parent, then a grandchild may inherit a portion of the estate. Children must be legally adopted or biological children to fit in this category. Step-children are not included.
If the decedent dies without a spouse or children; then, the decedent's parents are next in line to inherit the estate.
If none of the above are alive, then the deceased siblings would divide the estate.
Of course, family units may be complicated in today's world. For example, usually the surviving spouse gets everything. However, if the decedent has children from a previous marriage, the surviving spouse may get half the estate; the other half goes to the child/children from the first marriage. Basically, each scenario may have complications.
If you would like more information on how assets are distributed in the State of Florida, we wrote an article on Florida probate rules and processes that covers this subject in greater detail.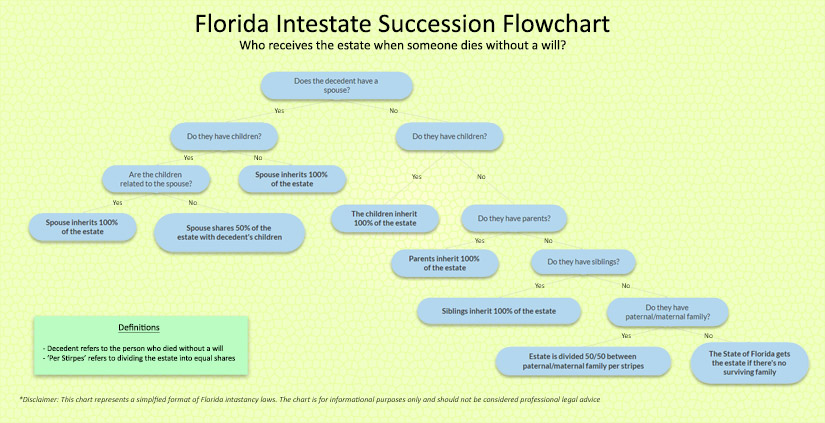 What's Not Affected by Intestate Succession?
When someone dies without a will, there are some parts of their estate that may not have to go through Probate Court. If you have funds in a 401K, or other retirement account and have designated beneficiaries, this avoids intestate succession.
Also, any property owned jointly with another person does not require Probate Court. It simply transfers upon your death. Many people set up bank accounts, CD's, credit union accounts, and life insurance policies with named beneficiaries, or designated POD (payable-on-death) accounts.
So, any account that designates who inherits the funds when you pass away is protected from intestate succession.
Can Intestate Succession Be Avoided?
Proper estate planning avoids intestate succession.  A solid estate plan includes a will, trust, as well as a power of attorney for financial and health needs. These vital documents protect you and your family and SAVE money.
How many people want the State deciding how their hard earned life's savings are distributed? How many folks want to pay the State money after they die?
Properly written and executed estate plans minimize estate taxes, eliminate lengthy probate proceedings, avoid family fights, establish care for minor children, and fulfill your wishes. Remember, no one can predict the future. So, planning ahead gives peace of mind.
Summary
When someone dies without a valid will, their assets are declared "intestate." It's important to note, "intestate" does not mean that the state owns the property. This simply means that the courts are required to invoke a specific process to determining who receives assets of the deceased individual.
This process varies depending on the state where the decedent resides at the time of death. Florida has a complex and elaborate process in determining who receives these assets. In short, the first to inherit is the surviving spouse. There must be a valid marriage to be a surviving spouse. If there are no children, the spouse gets everything.
The State of Florida requires that an attorney is present throughout this process. Since the process involved with intestate succession is very in-depth, it's vital to work with an attorney who's experienced with probate cases. Doing so will help avoid confusion and disputes among potential beneficiaries and ensure assets are correctly distributed in accordance with state law.