FLORIDA PROBATE & TRUST LITIGATION LAWYERS
Trust litigation lawsuits involve legal disputes over the administration of trusts. For example, if someone believes they aren't receiving a proper share of assets within the trust, or have legal objections regarding the actions of a trustee, they may file a legal dispute and the estate may enter litigation.
The estate litigation lawyers at Di Pietro Partners are AV Preeminent® rated trial attorneys with decades of experience representing trustees, beneficiaries, and other parties involved in trust litigation lawsuits.
If you have legal issues involving Florida trusts, contact one of our attorneys for a free and confidential consultation.
What is Trust Litigation?
Trust litigation refers to legal disputes involving the creation, administration, or distribution of a trust. Typically, it arises when beneficiaries, trustees, or potential beneficiaries disagree over the trust's terms, its management, or distributions from the trust. Such disputes can encompass a range of issues, from alleged mismanagement by trustees to challenges over the validity of the trust itself. Given the complexities, it's recommended to seek legal guidance when involved in trust disputes.
When Can a Trust be Challenged?
In order to challenge a trust, the person filing a claim needs to have valid grounds for their legal dispute.
Examples of valid reasons to contest a trust include:
Why Hire Us?
Our law firm has decades of trial experience in estate litigation cases involving Florida trusts. This experience includes representing beneficiaries with legal disputes over the actions of trustees as well as defending trustees against claims.
We are dedicated to client success and work very hard to provide you with the best legal representation possible. Our law firm is large enough to take on complex litigation matters yet small enough to provide personalized service and give our full attention to your case.
This knowledge, dedication, and experience serves as a powerful ally for your case. Depending on the circumstances, we can either negotiate a substantial settlement out of court, or fight vigorously on your behalf at trial.
Florida Trust Laws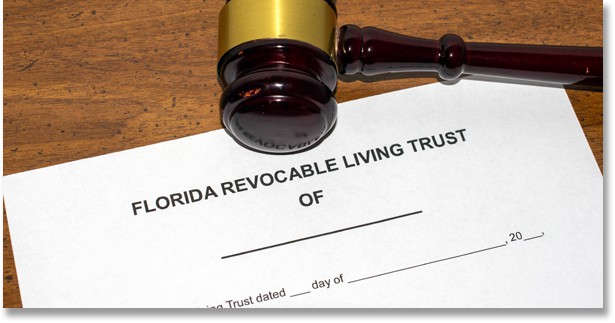 Someone in charge of managing a trust is known as a trustee. On the other hand, individuals who receive benefits from the trust are called the beneficiaries. In Florida, trustees have many important duties and functions. For example, trustees are responsible for ensuring assets are handled in accordance with the wishes of the settlor. Trustees are also responsible for legal and financial aspects such as filing estate tax returns, and in some cases, paying the settlor's debts.
A Florida trust must be signed with the same formalities as a will. The grantor or settlor is subject to the same requirements for legal capacity, competence, and being free of undue influence, as a person making a will. The language of a trust document, just as with a will, may be subject to varying interpretations.
The trust document is also subject to Florida's elective share statute. The trustee of a trust owes the beneficiaries of the trust the same fiduciary duty that a personal representative owes to the heirs and beneficiaries of a probate estate.
Common Reasons for Trust Litigation
Undue Influence
Contesting a trust on the grounds of undue influence contends that the individual making the trust (settlor) was tricked or coerced by a third party. For example, if a family member or relative in a position of confidence may convince the person in charge of a trust to create or alter a document for their own personal gain.
Mental Capacity
Disputing the validity of a trust on the grounds of "lack of capacity" means that the trust was executed by an individual that may not have done so with a sound mind. One common example of this dispute involves the creator of the trust having an age related illness such as Alzheimer's or Dementia. In these circumstances, it's fairly easy for a malicious person to take advantage of an elderly individual's deteriorating mental state and create/modify the trust for their own benefit.
Other aspects of disputing a trust on the grounds of lack of capacity may include:
• Influence of drugs (i.e. morphine or other medications)
• Brain damage
• Other illnesses that may significantly influence someone's mental state
The State of Florida has a standard for capacity when it comes to trusts. This standard is called "testamentary capacity." If someone sets up or modifies a trust while outside the standard of testamentary capacity, a trust may be legally challenged on the grounds of lack of mental capacity.
Issues With The Trust Itself
Florida has a specific legal process for executing a trust. This process is detailed under Section 736.0403 of the Florida Trust Code. If these provisions aren't followed, the trust may be subject to litigation in court.
Issues With Trustees
One of the more common reasons for trust litigation lawsuits involves the actions of a trustee. When a trustee's actions violate the law or provisions contained within the trust, beneficiaries or other interested parties may file a lawsuit and contest the trust.
Issues with trustees may include:
• Trust reformation or modification
• Self dealing
• Removing another trustee from the estate
• Excessive trustee compensation
• Failure to make proper or timely distributions
• Failure to make proper or timely accountings
• Failure to administer the trust in the manner required by the trust document
• Breach of Fiduciary Duty
Breach of Fiduciary Duty
In Florida, personal representatives, guardians, and trustees all have specific legal obligations to fulfill. When it comes to trusts, a trustees fiduciary duties are governed under Section 736.0813 of the Florida Trust Code.
When a trustee behaves in a way that breaches their fiduciary duty, a trust may be contested and the trustee may be removed from their role.
Breaches of Fiduciary Duty may include:
• Self-dealing (i.e. selling property from the trust)
• Excessive trustee compensation
• Failure to follow the prudent investor rule or making improper investments
• Theft (i.e. skimming or stealing assets from the estate)
Unclear or Confusing Language
This involves a trust being written in a matter that's difficult to interpret. This is often done to benefit a certain party. Essentially, someone may "sneak in" certain provisions to get a larger share of inheritance or assets to which other parties would not have otherwise agreed.
If a trust contains unclear, confusing, or ambiguous language, it may be challenged in court.
Trust Litigation Questions
What Happens When You Contest a Trust?
When someone contests a trust, there are three main possible outcomes:
1. Case Dismissal
If the judge rules that there is insufficient legal grounds to formally challenge the trust, the case may be dismissed.
2. Out of Court Settlement
Both parties can agree to a specific settlement. This is known as a "nonjudicial settlement agreement." A skilled litigation attorney can negotiate an appropriate settlement on your behalf and save you a great deal of time and money.
3. Trial Litigation
If it's determined that there are sufficient legal grounds to contest the trust and a settlement cannot be reached, the case may go to trial. These cases are filed in Florida probate court. At the trial, both parties will be represented by legal counsel and a judge will review documentation and evidence from both the plaintiff and defendant. A decision will eventually be rendered based on facts and evidence presented at trial.
Who Can Challenge a Trust?
Beneficiaries named within the trust or any other "interested party" can challenge a trust provided they have valid legal grounds to do so.
Do I Need An Attorney?
Whether you're a Trustee, beneficiary, or other interested party, you absolutely require legal counsel. It's advised you work with an experienced estate litigation lawyer who specializes in trusts as these issues can be highly complex and emotional, particularly when the case involves family members or loved ones.
Do You Represent Beneficiaries?
Yes, the trust attorneys at Di Pietro Partners are highly experienced in representing beneficiaries with legal disputes involving the actions of trustees or other disputes involving Florida trusts.
Do You Defend Trustees?
Yes, our probate and trust lawyers have decades of trial experience and specialize in defending trustees from lawsuits brought against them by beneficiaries or other interested parties.
About Our Trust Litigation Lawyers
Speak With a Trust Litigation Attorney Today
Di Pietro Partners has deep knowledge of trusts and extensive experience with the Florida probate process. Regardless of the complexity of a case, our lawyers are well equipped in guiding you through your legal issues.
The main office of our law firm is located in Fort Lauderdale, FL. We represent clients throughout Florida in probate and trust litigation cases.
If your legal issue occurred within the State of Florida, our lawyers can work with you regardless of your location. To speak with one of our experienced attorneys about your case, contact our offices today.