In Florida, assets are administered through a specialized court system known as probate court. In Miami, this process is done through either the Miami-Dade Clerk of Courts, or the Eleventh Judicial Circuit of Florida depending on the type of issue. Florida law requires that an attorney is present throughout this process in order to ensure assets are properly administered to named beneficiaries within the will or trust.
Di Pietro Partners is a premier law firm for probate and estate cases in Florida. If you have issues involving probate in Miami-Dade County or another surrounding area, talk to one of our experienced Florida probate lawyers today.
Dying Without a Will
When someone passes away without a valid will, assets are declared intestate. This means that the State of Florida uses a specific process to determine who should receive what assets of the decedent's estate. This process can be fairly lengthy and complex and it's important to consult with an experienced probate lawyer when going through this process. Here's a flowchart that outlines the general process used for Florida Intestate Succession,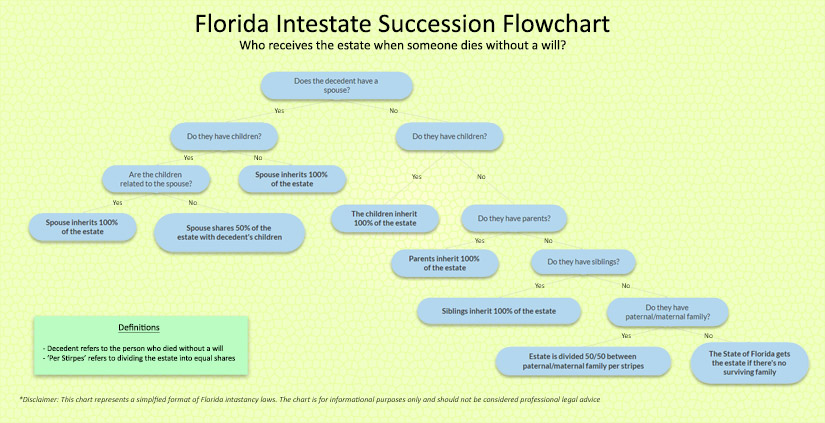 Filing Miami Probate Cases
The court that handles most probate matters within Miami-Dade County is the Eleventh Judicial Circuit of Florida. In less common cases where a probate hearing isn't necessary, the Miami-Dade County Clerk of Courts may handle the case. Here's more information on the Miami Probate Court as well as the address and location information below.
Eleventh Judicial Circuit of Florida
175 NW 1st Ave,
Miami, FL 33128
Get Directions

Miami-Dade County Clerk of Courts
73 W Flagler St,
Miami, FL 33128
Get Directions
Probate And Trust Litigation
Trust litigation cases involve legal disputes over the administration of trusts. For instance, when a beneficiary believes they aren't getting their proper share of assets held within the trust, or have issues with certain actions of a trustee they may file a lawsuit and the estate will enter litigation.
Legal disputes involving trusts are especially complex and it's important to have an attorney with specialized experience in trust litigation lawsuits represent you if you're involved in a dispute.
Talk With a Miami Probate Lawyer
Di Pietro Partners is an experienced South Florida probate law firm that specializes in Florida probate and trust cases. The primary offices of Di Pietro Partners are located in Fort Lauderdale and there's several satellite offices located throughout Florida including in Miami.
Regardless of the complexity of your case, the lawyers at Di Pietro Partners are well equipped in helping you to navigate your legal issue. For questions or concerns related to probate in Florida, contact us for a free consultation.
Miami Office
80 S.W. 8th Street
Suite 2000
Miami, FL 33130
Get Directions