When someone dies in the State of Florida, their property and assets are administered through probate court. An attorney is required to be present throughout this process in accordance with Florida law. Having legal counsel helps to ensure someone receives their entitled portion of the estate. An attorney also protects someone's interests in the event that legal disputes arise among beneficiaries or other parties.
Di Pietro Partners is a premier law firm for probate and estate cases in Florida. If you have issues involving probate in Fort Lauderdale, talk to one of our experienced probate lawyers today.
Fort Lauderdale Probate Lawyer Legal Services
The Florida probate lawyers at Di Pietro Partners offer a multitude of legal services related to probate in Fort Lauderdale. These legal services include but are not limited to:
Probate Administration: This involves managing the probate process, including filing paperwork with the court, notifying creditors and heirs, and distributing assets to beneficiaries. An attorney can help guide the executor of the estate through this process and ensure everything is done according to Florida law.
Trust Administration – Trustees have a legal responsibility to distribute assets within the trust to the named beneficiaries in accordance with the wishes of the deceased. It's vital to work with an attorney that's experienced with probate and trusts to ensure the correct process is followed.
Trust Litigation – Trust litigation lawsuits involve legal disputes over the administration of trusts. For example, if someone believes they aren't receiving a proper share of assets within the trust, or have legal objections regarding the actions of a trustee, they may file a legal dispute and the estate may enter litigation. Our probate and trust litigation lawyers have decades of experience representing trustees, beneficiaries, and other parties involved in trust litigation lawsuits.
Will Contests: Sometimes, disputes arise over the validity of a will or the intentions of the deceased. An attorney can help represent interested parties in these disputes and advocate for their rights.
Estate & Probate Litigation: In some cases, disputes may arise over the distribution of assets or the actions of an executor or trustee. An attorney can help represent clients in these disputes and work to resolve them through negotiation or litigation.
Intestate Succession (Dying Without a Will) – Intestate succession refers to the State process of distributing a person's assets when they die without a will, or trust. When a person passes away without a written document detailing how to distribute their estate, the matter goes to probate court. The State of Florida requires that an attorney is present throughout this process. Since the process involved with intestate succession is very in-depth, it's vital to work with an attorney who's experienced with probate cases.
Guardianship: If a person becomes incapacitated and unable to make decisions for themselves, a court may appoint a guardian to make decisions on their behalf. An attorney can help clients navigate the guardianship process and ensure the best interests of the incapacitated person are represented.
Overall, probate legal services in Fort Lauderdale are focused on helping clients navigate the legal complexities of the probate process and ensuring that the wishes of the deceased are carried out in a timely and appropriate manner.
Probating A Will
When it comes to probating a will in Florida, the process is fairly straightforward. Depending on the value of the decedent's estate, there are three primary types of administration. This value is calculated by quantifying the total amount of property owned by the deceased individual that's going through the probate process.
Formal Administration – This is typically the most common type of administration used in probating a will. This administration applies to estates valued over $75,000.
Summary Administration – This form of probate administration is used when the total estate value is $75,000 or less. It's essentially an expedited version of the probate process.
Disposition Without Administration – This version of probate can only be used when the decedent did not leave behind any real estate property and the assets that can be probated are valued below the costs of probate proceedings themselves.
Dying Without a Will in Fort Lauderdale
When someone dies without a valid will, their assets are declared intestate. It's important to note that "intestate" does not mean that the property now belongs to the State. In fact, Florida has a specific process in determining who receives the decedent's assets in the absence of a valid will. Here's a simplified flowchart showing who receives assets when someone passes away without a will in Florida.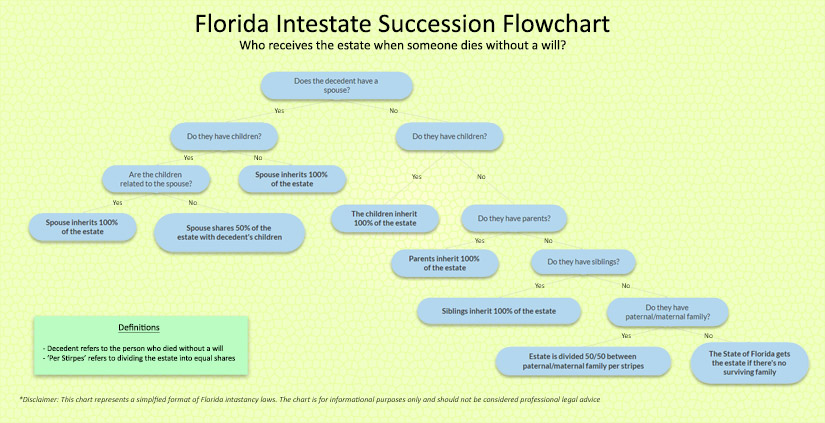 When the decedent has a surviving spouse and has no living children, grandchildren, parents, etc, then the spouse shall receive the entire estate.
If the decedent has a spouse and also has one or more living family members who are family members of the spouse (i.e children), the spouse shall receive the entire estate.
If the spouse has additional living immediate family members that are not immediate family of the deceased individual, the spouse shall receive one-half of the estate with the other half going to the spouse's descendants.
In cases where the decedent was not married at the time of their passing, the immediate family members will receive the entire estate. The assets will then be divided in accordance with Florida law.
If the deceased person was not married and also has no living immediate family members, the inheritance will pass to surviving parents of the decedent.
In cases where someone dies without any surviving close family members, spouses, or relatives, the State of Florida will search for more remote heirs in accordance with intestate law.
The full process can be found in Chapter 732 of The Florida Statutes. This process is very in-depth and often causes confusion/disagreements among beneficiaries. As a result, it's vital to work with a Florida probate attorney that's experienced with issues involving intestate succession.
Fort Lauderdale Probate Litigation Attorney
Probate litigation is a legal process that involves resolving disputes related to the administration of a deceased person's estate. Probate litigation can arise when there are disputes over the validity of a will, the interpretation of the terms of a will, or the distribution of assets among heirs or beneficiaries. Probate litigation can be initiated by any interested party, such as beneficiaries, heirs, creditors, or other interested parties who have a stake in the probate process. The probate court will oversee the litigation process, which can involve hearings, depositions, and other legal proceedings.
Common types of Florida probate litigation include:
Will contests: Will contests involve disputes over the validity of a will, such as claims that the will was signed under duress or that the deceased lacked the mental capacity to execute the will.
Breach of fiduciary duty: This involves disputes over the actions of the personal representative or executor of the estate, such as allegations of mismanagement of estate assets or self-dealing.
Disputes over estate assets: This can include disputes over the valuation or distribution of estate assets, as well as disputes over ownership or title to specific assets.
Probate litigation cases in Fort Lauderdale as well as the rest of Broward County is the Seventeenth Judicial Court of Florida. This process can be a complex and contentious process, and it is important for any party involved to seek the guidance of an experienced Fort Lauderdale probate attorney who's experienced in litigation and understands the intricacies of this specific court system.
Filing Fort Lauderdale Probate Cases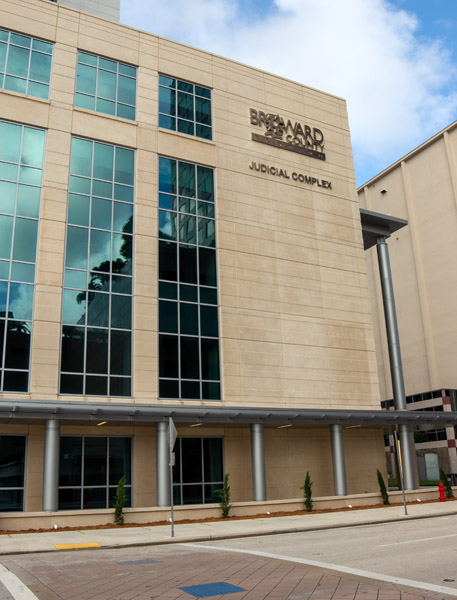 The court that's responsible for probate in Fort Lauderdale as well as the rest of Broward County is the Seventeenth Judicial Court of Florida. Our law firm is located in Fort Lauderdale and is highly experienced with probate cases within this court system.
Broward County Courthouse
201 SE 6th St.
Fort Lauderdale, FL 33301
Google Maps Directions
Trust Administration
The process of trust administration involves asset management within a trust. The primary goal of a trust is to protect assets while properly managing and distributing assets to individuals named within the document which are known as trustees. These trusts also provide benefits to benefericies over time throughout the course of their life.
In general, trusts are categories in two different ways – revocable and irrevocable. There are three main trusts used in the State of Florida.
Living Trust – This is the most common type of trust, which can be setup as either revocable or irrevocable. This type dictates the management of certain assets during a person's life and their distribution after that person's death.
Testamentary Trust – Also known as a "testamentary will" this type of trust is created within a will. Since it is part of a will, it only takes effect after death.
Domestic Asset Protection Trust – Commonly referred to as DAPT, this trust provides protection against creditors. It also serves to protect assets from a spouse in the event a marriage is unsuccessful.
Talk With A Fort Lauderdale Probate Lawyer
Di Pietro Partners is an AV Preeminent® rated law firm that specializes in issues involving Florida probate. This includes simple estate administration as well as complex litigation and issues with high value estates.
Our main office is located in Fort Lauderdale and we are dedicated to serving Broward County as well as many other locations throughout the State of Florida. Contact one of our experienced attorneys today.
Fort Lauderdale Office
901 East Las Olas, Suite 202
Fort Lauderdale, FL 33301
Get Directions